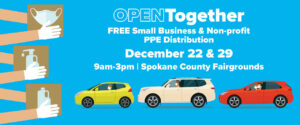 AHANA Is working with Greater Spokane Incorporated to provide the distribution of Free PPE for 100 businesses who sign up with AHANA. Personal Protective Equipment (PPE) helps reduce barriers and reinforces the need to conduct business safely to keep our community healthy.  This distribution is for businesses and nonprofits with 249 or fewer employees
Instead of businesses picking up the PPE at the Spokane County Fairgrounds, AHANA will deliver your requested PPE to your business at no charge. Deliveries will be made on December 22nd and 23rd (if you sign up with GSI, pick up from the Fairgrounds is December 22nd and 29th). To sign up for this program fill out the application below.
The deadline to sign up is Tuesday Dec 22, 2 pm.
If you would like to volunteer to help deliver PPEs to businesses, please email the AHANA Board Secretary, Maria Gutierrez at maria@asap-translations.com
NOTE: The deadline to sign up has passed and the sign up form has been removed.