101 W Cataldo, Suite 303, Spokane WA 99201
47.665950152631, -117.41470353817
Member Business Listing provides a full page of information and the business listing is highlighted in the category.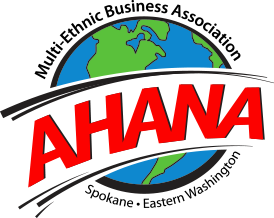 AHANA is a Spokane based non-profit organization that supports and promotes Inland Northwest multi-ethnic and multi-cultural businesses and their communities. The association is not recruiting members at this time, but volunteers are welcome to serve on committees and on the board of directors.
AHANA was formed in 1998 as a trusted organization to support and engage multi-ethnic and multi-cultural business owners and working professionals. The organization addressed business needs and provided solutions for those businesses to become successful in the Inland Northwest.
AHANA went dormant in 2009 when AHANA's executive director when Ben Cabildo was hired by Community Minded Enterprises (CME) — AHANA became a CME program with the hire but it was never funded. In 2018, a small group of original AHANA members began meeting to reboot the organization under the guidance and leadership of Ben Cabildo and Marvo Reguindin who had been the General Manager for Inland Northwest Business Alliance. The new AHANA board re-established its state non-profit status under the name Multi-Ethnic Business Association (MEBA) and is doing business as AHANA because of the strong name awareness it has in Spokane.
The needs faced by multi-ethnic and multi-cultural (MEMC) businesses have not changed since 1995. Today, AHANA continues to work on the following issues MEMC businesses face:
Lack of information and resources and mentors for MEMC businesses
Lack of capital
Lack of business management experience and knowledge
Lack of business marketing, financial experience and knowledge
Lack of connection and access to business and contracting opportunities
MISSION & VISION:
MISSION: The mission of AHANA is to advocate, assist, and develop business growth and opportunities for multi-ethnic and multi-cultural businesses; and advocate for increased employment in the Inland Northwest.
VISION: An Inland Northwest region with many successful and thriving multi-ethnic and multi-cultural businesses fully engaged in the political, social and economy of the region.
Board of Directors
Officers:
Francis Adewal, President- Attorney, City of Spokane
Joni Wynecoop, Vice President – Deputy Executive Director, Spokane Tribe of Indians Office of the Executive Director
Nina George, Treasurer – Community Minded Enterprises
Yvonne Montoya Zamora, Secretary – Retired
Directors:
Allen Battle – Manta Way
Dennis Mitchell – Dennis Mitchell Empowerment Seminars
Michael Spencer – Business Owner
Raymond Reyes – Assoc Provost/Chief Diversity Officer, Gonzaga University (on sabbatical)
Kerra Bowers – Business Owner, Little Scholars Development Center
Erin Ross – Eastern Washington University
Contract Staff:
Marvo Reguindin – Executive Director, ahana.ed@ahana-meba.org AHANA Office: (509) 900-6981, Cell (509) 389-2046
Maria Gutierrez – Technical Support Advisor, maria@ahana-meba.org, AHANA Office: (509) 900-6981, Cell (509) 747-5121
Sanya Ala – Director of Government & Community, alasanya@yahoo.com, AHANA Office: (509) 900-6981, Cell (509) 868-8048
Ben Cabildo – Founder/Chief Advisor, bencabildo@gmail.com, AHANA Office: (509) 900-6981, Cell (509) 999-5365
---
9 am to 5 pm by appointment only
9 am to 5 pm by appointment only
9 am to 5 pm by appointment only
9 am to 5 pm by appointment only
9 am to 5 pm by appointment only